Hawaii's vibe is unparalleled. But it's more than just the sunsets, surfing, luaus, and floral shirts. There's a Hawaiian term called lokahi, referring to the profound interconnectedness of all things in the natural world, as part of a larger whole. It's impossible to not feel it – a sort of oneness with the harmony of how things eb and flow in the universe.
It's part of the tapestry of what makes Hawaii, well, Hawaii. The aloha spirit of the people. The islands' many colors, like the luscious tropical greens of Kauai or the deep Pacific blues of the beaches on Maui. Cocktail wise, the brightly colored pineapple tiki bar concoctions like Mai Tais (even though it was invented in San Francisco), Singapore Slings, or the blue curacao-soaked Blue Hawaiian
What you probably don't think about is vodka – the spirit synonymous with cold northern latitudes, endless winter, and depressing gray skies.
The fact is, there are some deeply complex vodkas being distilled inside the Tropic of Cancer
What is Ocean Organic Vodka?
Hawaii's Ocean Organic Vodka is here to clear those pesky misconceptions. Sold in round spheric blue bottles, the Hawaii-based distillery produces its flagship certified-organic vodka from sugarcane, resulting in a signature sweet taste that's refreshingly smooth and clean.
It's also the only vodkas in the world to be blended with 100% deep seawater-based drinking water, drawn from 3,000-ft below the surface off the Kona coast. To create this one-of-a-kind H20, the Natural Energy Laboratory of Hawaii uses reverse osmosis to remove the salt from deep ocean water. As a result, this process leaves valuable electrolytes and minerals in the water's molecular makeup, including calcium, magnesium, and potassium.
You're not going to get a spirit made like this anywhere else: Ocean Organic Vodka has an exclusive contract to be the only commercial business that purchases deep ocean mineral water from a private company operating within the Natural Energy Laboratory of Hawaii Authority.
Ocean Organic Vodka grows 30 different types of sugarcane on an 80-acre farm and a distillery on Maui, located on the mineral-rich slopes of the Haleakala volcano. All the sugarcane used in the spirit is certified organic.
Unlike vodka made from other grains or potato mash, cane sugar sucrose can easily ferment into ethyl alcohol without the help of chemicals or enzymes. It's a very pure, clean process used in other spirits like rum for centuries. Vodka made from sugarcane doesn't actually have any sugar in it after the distilling process (this is U.S. law for distilled beverage), besides the ethyl alcohol itself.
So how's it taste? Distinctly clean with a hint of sweetness, at 40% ABV. The minerals from the deep ocean water further enhance the flavor.
Ocean Organic Vodka is available wherever spirits are sold in the United States right now. In fact, I just saw it on display at my local Whole Foods the other week.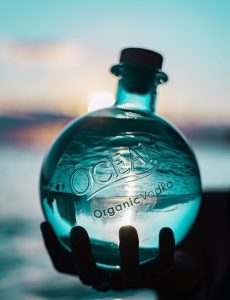 Comes in various sizes, including 50ml, 375ml, 750ml, 1 liter, and 1.75 liter. It's reasonably priced, with a suggested price of $29.99 for the 750ml sphere blue bottle.